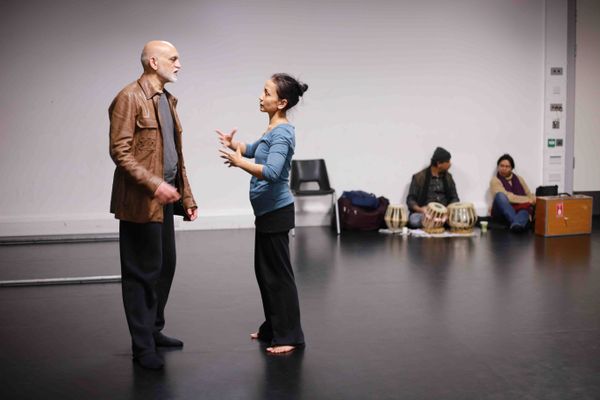 Collaborating Kathak with Physical Theatre/Mime movements - 
Suman Bhuchar
In A Thousand Faces, Amina Khayyam focuses on the side of Kathak that is not often seen in the UK, where mainly the technical virtuosity is more focussed. She is featuring the expressive component – the 'ang abhinaya' using gestures, movement and subtlety to explore character and structure narrative.
Here, she teams up with Harmage Singh Kalirai, actor and mime artist who trained with Ladislav Fialka and at the L'École Internationale de Théâtre Jacques Lecoq. Both are physical art forms that use gesture, expression and movement to express emotions and storytelling.
Amina Khayyam wants to extend the use of 'abhinaya', which has been stuck in a traditional construct within the Kathak vocabulary to be able to tell 'new stories' without trying to include any other aspects of 'modern', or 'contemporary' dance moves. She argues that you can use the gestures and expressions of Kathak in an innovative way in order to bring new audiences to this art form.
The challenge for Kalirai is to be able to use the mime in an altogether different fashion. Dance works on rhythms and timings, and the mime has to be able to create the characters and gestures within that frame. There is a question and answer sequence during the 'courtship' scene where kathak and mime have to engage with each other to create a visual performance. 

Images: Ayesha Begum