"

a company who clearly care very deeply about the tale they tell" - Joyce McMillan
— The Scotsman
A critically acclaimed, award-winning touring company, and nominated for the National Dance Awards 2022, the Amina Khayyam Dance Company (AKDC) makes touring work using the South Asian dance Kathak as the core narrative.  It works in collaboration with those who are culturally least engaged, economically challenged and societally disenfranchised - with a focus on the marginalised female voice, not just from the mainstream but from within their own community - a place from where its founder and AD, the critically acclaimed dancer and choreographer, Amina Khayyam comes.  The Company adds theatre, live art, and technology, striving to make relevant, engaging work through a process of collaboration, participation, exploration, and opportunities for creative and cultural expression- shaping a process that empowers women creatively as stakeholders. The work's dramaturgy is explored through the sub-culture context of this process, and made to transpose to the mainstream audience, so that the targeted sector's perspective, aspiration and voice is heard widely. 
AKDC treats Kathak as a contemporary form thereby transcends any 'classical' or 'modern' precepts to its approach. It uses Kathak vocabulary to transpose it on a modern body dialogue, in the process subverting its many facets to carve out an emotion performed to a contemporary narrative. It believes the dance form is evolving with progressions demanded by the contemporary zeitgeist, in the same way it did so from the demands of the Mughals, the last time it took a major step forward.  At its heart, AKDC emphasises Kathak as a storytelling form – an approach that has allowed it to use its uniquely placed and equipped vocabulary to tell new and urgent stories of global importance. 
Based in UK (Slough), the Company, since its formation in 2013 has made 15 pieces of work, performed over 160 shows in over 40 venues (incl outdoors) & digital platforms, nationally and internationally.
AKDC is supported as an NPO by Arts Council of England. 
OUR FIRST EIGHT YEARs: FROM FULL SCALE TOURING TO TRANSITIONING TO BECOME 'LOCAL'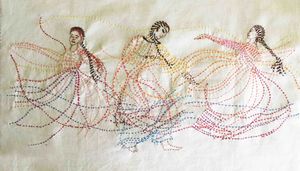 Touring our productions has been our passion… reaching 40 venues nationally / internationally over our first eight years with productions such as - YERMA, ONE, MEETING NAZRUL and A THOUSAND FACES. 
However, with the last two productions - A HUM IN MY HEART and KANTHA KATHA-K we've been homing in our audiences, focussing on who we want to reach and where they are. 
Communities, rich in cultural heritage but deterred to engage in artistic practice due to their social positioning are unfortunately a growing sector.  Since our stories come and are developed from that sector, we have decided to stay in that 'local'. To this end we have been developing 'local' hubs which we want to be brimful of activities and partnerships that feed our world class productions to begin their journeys there before their stories are told on select national stages – so that they become part of the national zeitgeist. 
We have established these hubs in Woking, Luton and Birmingham and are fast developing them in Slough, & East London.
Through our hubs we've taken over local spaces where necessary – transforming them into performance spaces such as the Dallow Centre in Luton allowing us to reach our audiences directly – so doing away with programming culture of venues. Our hubs are also enabling partnerships between local community organisations with the professional arts sector such as Liaise Women's Centre working with Dance Woking and Ambassadors Theatre Group in Woking.
KANTHA KATHA-K (2021) - developed through extensive remote outreach activity in Luton, Woking, Slough, Brighton, Birmingham, London, Leeds, during Covid Lockdowns using WhatsApp and zoom where participants used embroidery to creatively express their lockdown experiences and stories. 
These stories were then progressed to kathak movement choreography performing in 'local' spaces – Dallow Centre in Luton and Peacock Shopping Centre, Woking.
CATCH THE BIRD WHO WON'T FLY (2020) ..   a digital dance-theatre made remotely during lockdown after extensive online engagement with women who had experienced domestic abuse.