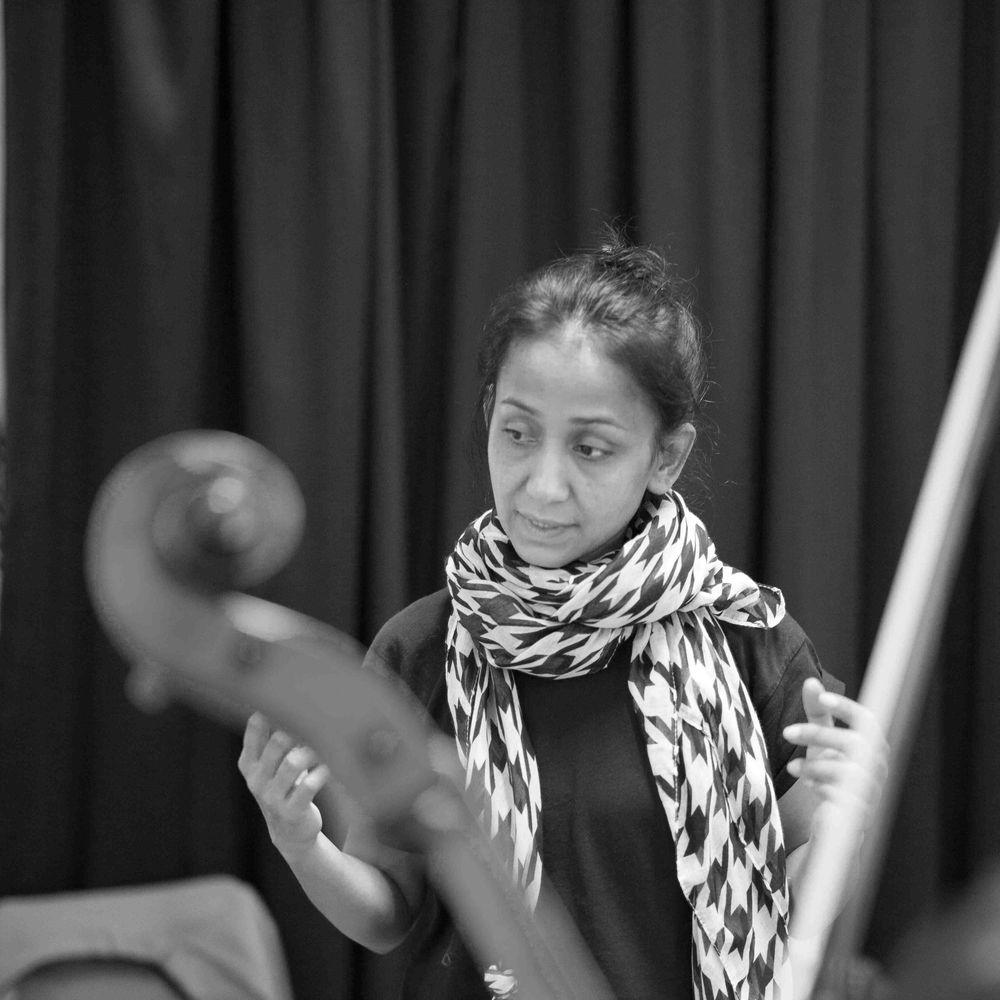 Amina Khayyam
Artistic Director
"An extraordinary dancer.. with important things to say."
A critically acclaimed performer, choreographer and dance theatre maker, Amina Khayyam began her Kathak dance training with Alpana Sengupta in Croydon progressing to professional level with Sushmita Ghosh at The Bhavan (London) under whose guidance she made her professional debut at the Purcell Room, Southbank.
Alpana introduced Amina to performance and instilled in her a deep passion to pursue it as a career. As a dancer Amina worked professionally for many choreographers such as Alpana Sengupta (Jhanak), Sushmita Ghosh (Rosary), Kumudini Lakhia (Ekatra), Darshan Singh Bhullar (Find Me Amongst the Black), Sonia Sabri (Red), Filip Van Huffel (Ekatra), Dan O'Neill (Escapade) and most memorably with Lokendra Arambam, the renowned Manipurian (India) theatre director with whom she worked on: "Stage of Blood" – an adaptation of Shakespeare's Macbeth staged on the River Thames, and who left a lasting impact on her through his 'shamenistic' technique – an intensive workshop process required to delve deep to harness emotion to drive a movement and performance  - a process that has become a hallmark for AKDC's work.
Amina estimates she has donned the kathak costume for over 1000 performances throughout her career from professional productions on international stages to schools, community centres and charity events – an experience that led to choreography/making outdoor pieces for Akademi – Waterscapes (Summerset House) and section of Bells (Trafalgar Square), and setting her own company. 
Amina's relationship with kathak in her earlier years was marked by difficulty and obstacle having to escape cultural restriction to attend classes – a world she has not forgotten but returned to make it a source to make all her work. She leads intergenerational workshops with various ages from the least engaged and disenfranchised sectors as source of subject. Her first professional choreographic piece "Laal Shaari", selected to perform as part of ROH Firsts saw her research with Bangladeshi women of over 50's. The process extended to empowering their creativity bringing it to final production such as a tableux of washerwomen in a dance sequence in Yerma, or the thousand dolls made as back-drop for A Thousand Faces. Strong bonds have been developed with this sector where they have become first time users of mainstream arts spaces, individuals have been engaged to be creative, expressive and empowered – a skill level that has fed into pioneering the Outreach section of her company, treated as equally important to performance work.
Recognising kathak was interfacing with contemporary aesthetics, Amina progressed her development with a Post Graduate Diploma in Dance Studies at Trinity Laban before forming her company Amina has created a number of full-length productions - One, Yerma, A Thousand Faces, Slut, The Hum in My Heart (Woking & Luton Stories), the latter a site immersive works on the issues of mental health. She also wrote and directed a children theatre piece (The People Who Live in the Skies), which toured outdoor venues & events.
During Covid Lockdowns, Amina wrote, choreographed and directed Catch The Bird Who Won't Fly – a digital animationl/film  dance theatre piece highlighting increased levels of domestic violence during lockdowns.
Her future works in development include Rise & Fall, 'Amaad/Flower Bloom' and Kathak Monologues -  shorts pieces titled Manchild, You and Me, Bird and Bombay Bitch.
A  "sensitive and nurturing" teacher. Amina started teaching Kathak at the Bhavan. She also taught BA (Hon) Dance and Culture degree modules at The University of Surrey for students to study the history of Kathak and notation of Kathak compositions, Currently Amina is teaching in various locations.
Dance for Change – Amina Khayyam Interview with Pulse
Select Press (click here)